Danish fashion designer Dorrit Shoshan is born in Copenhagen 1967. Graduated as BA/MA in Fashion design at Danmarks Designskole (The Danish Design School – now The Royal Danish Academy of Fine Arts, The School of Design) in Copenhagen.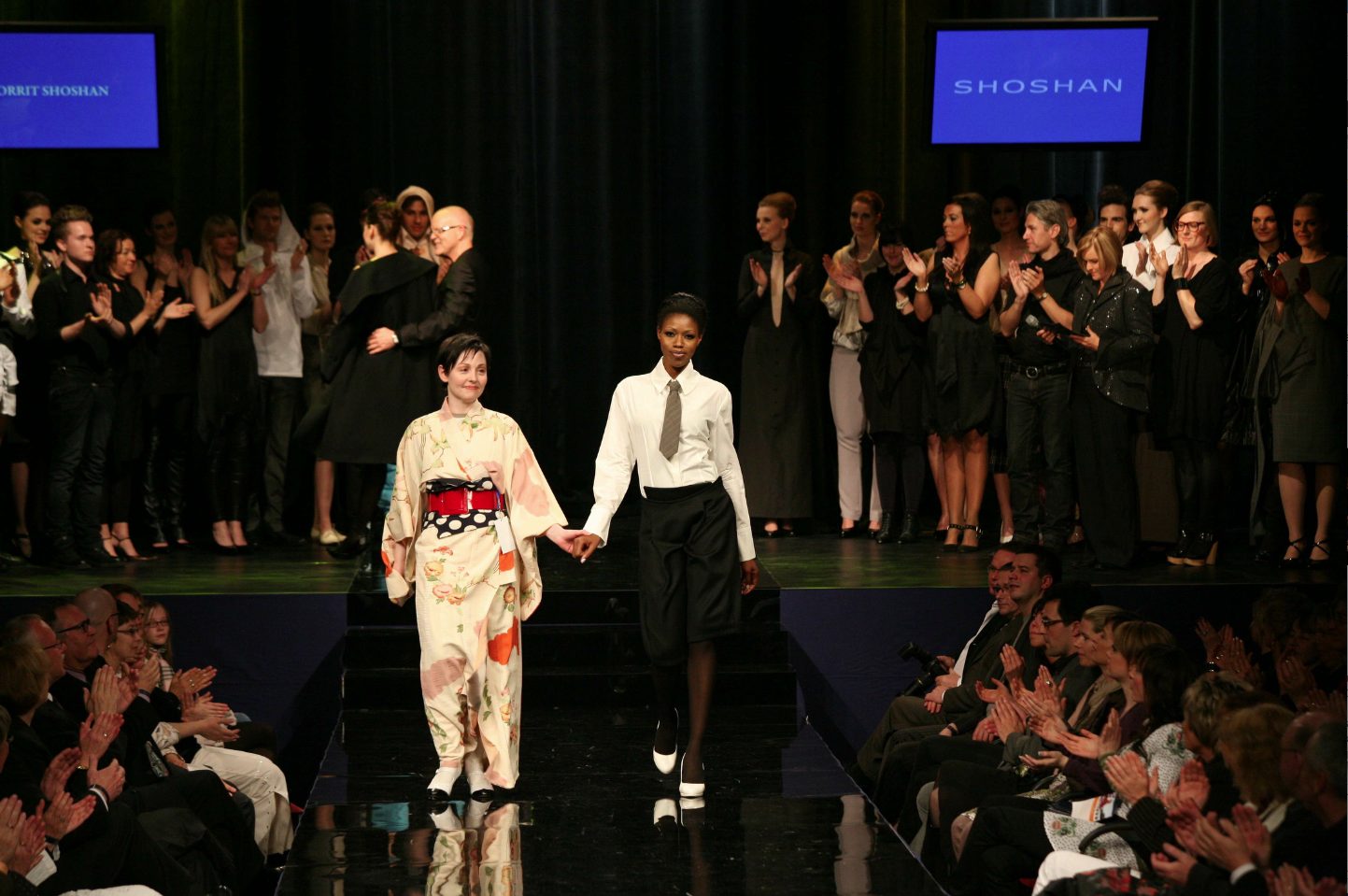 Established her current brand SHOSHAN in 2005. All collections from 2013 to 2006 to 2013 available as download catalogues on this site.
As a designer Dorrit Shoshan has moved from a radical and confronting style to a more elegant, classical style which can be seen in her current brand SHOSHAN's latest collections.
Received Illum's Designpris (Illum's Design Award) in 2005 and was nominated for the Danish fashion award Den Gyldne Pelsnål (The Golden Fur Pin) the same year. In 2007 she was also nominated for fashion magazine IN's grand design award Ginen (The Mannequin Award). Received The Baltic Fashion Guest Award in 2008. Participated as the only Danish high fashion brand in the EU sponsored promotion fashion campaign at Wear Europe in Tokyo March 2009.
Dorrit Shoshan's design and stylist work has been featured in both Danish and international commercials and television features as well the productions of several bands, musicians and dancers throughout the years. Recently she has designed the stage clothing for the internationally renowned band Efterklang's "Parades" live tour, the avant-garde opera project "If Power Asks Why" and the "Youroland" stage show.
SHOSHAN has recently launched her new line SHOSHAN FEMME of exclusive slow fashion styles available only here at WWW.SHOSHAN.K
Education:
2005 -2000: BA/MA in Fashion design, Danmarks Designskole (The Danish Design School – now The Royal Danish Academy of Fine Arts, The School of Design) in Copenhagen.
2000: DTTA – Technical Academy of pattern cutting, draping and tailor fashion. Advanced level.
Activities and awards:
2014: Designs the stage clothing for the theatre show "Prototype/Protokol".
2013: Designs the stage clothing for the avant-garde show "Youroland".
2012: Designs the stage and video clothing for "If Power Asks Why", a classical album and live show performed by mezzo-soprano Andrea Pellegrini and pianist Tanja Zapolski.
2009: Invited to the Tokyo international fashion exhibition as the only high fashion brand in the EU sponsored promotion campaign at Wear Europe.
2008: Receives The Baltic Fashion Guest Award in 2008. Opens the new line SHOSHAN Pure (design in sustainable materials).
2007: Designs the stage clothing for the internationally renowned Danish band Efterklang's "Parades" live tour.
2007: Nominated for Nordic Fashion Award "Ginen 2007" (The Mannequin Award) by Danish Fashion Magasin "IN". Assigned by The Danish Arts Foundation to dress the hostess at the yearly grand awards event.
2006: Represented at the international fur design competition in Milan.
2005: Establishes her own new brand SHOSHAN (wholesale production of two annual women's collections along with SHOSHAN's couture line, an elaborate and artistic design of unique clothes). Winner of Illum's Design Prize. Candidates for the Danish fashion award Den Gyldne Pelsnål (The Golden Fur Pin, the grand prize given by IFTF, The International Fur Trade Federation). Invited to make a visual contribution to the D&G Anniversary Book.
2000 – 2005: Danmarks Designskole (The Danish Design School – now The Royal Danish Academy of Fine Arts, The School of Design). 
Five creative experimenting years, breaking with past styles and focus on developing new ideas. From avant-garde to more commercial design. During studies I have a.o. worked with:
Graduation collection "Suit meets Kimono". Traditional men's fabric blended with kimono shapes.
Fashion and ecology: A women's collection "About Attitude" done in ecological fabrics.
Collection of men's dresses. Clothes for men reflecting on the essence of Dignity.
Storytelling on clothes. Digital print-project on textiles. Full body prints on silks.
Design in jersey and stretch materials: working with elasticity and its possibilities.
Young Teenage girl collection designed for Diesel inspired by the character of "Pippi"
Draping and sketching courses. 
1999-2005: Participating in several international design conferences in Germany, Israel and Denmark. Exploring and developing new design methods. Training in personal leadership and collective teamship. 
1989-1999: Design Manager. Establishing own brand and company Conflicto. Working as designer in the design duo Conflicto: Niche production of haute couture pieces in skin and leather. Running own production, workplace and two shops in Copenhagen. In charge of designing, making, selling all clothes: Women and men's collection + accessories. Along with custom made design. Drawing, constructing, draping, sewing and selling all production. Part of collection produced in South America. Cooperating with South American Artisans making hats and accessories. Organizing events, shows, alternative design fair etc. 
Conflicto is known for original, unique styles and craftsmanship of very high quality. During the 1990'ies the brand develops reputation of being among the best in Europe producing avant-garde leather design.
1997: Costume designer on a science fiction motion picture by Nebula Productions. Ten costumes were designed to express future Copenhagen city life, including new strange police uniforms, bizarre secretary looks and more. Acts a costumier and makes costumes for a theatre play celebration UN's anniversary on human rights declaration. Work including uniforms and ballroom dresses from the 1940's.
1993-97: Teaching students from technical schools in Design method, construction and tailor fashion.
1996: Cooperating with Danish jewel maker Gitte Bjørn and producing unique combined silver/leather haute couture pieces. 
1995: Selected among international designers in London to produce haute couture in skin and leather for Thierry Mugler in Paris.
1992: Offered job in New York as designer for "Willie Wear", but continues to develop her own label instead.  Selling own collection to Patricia Field in New York and others.
1991–1992: Designs Peter Peter's stage clothing featured in Sort Sol's videos and live performances.
1991: Designer clothes and accessories for commercials such as Sony, Marlborough and Coca Cola in South America.
1987-89: Courses in fashion sketching, construction and sewing techniques.
EARLIER SHOWS AND EXHIBITIONS
2006:
Copenhagen Fashion Week Aug. 2006: CPH VISION.
Nantes in France 15–17 June 2006: Exhibiting graduation collection at Cumulus, a European conference organised by the European Association of Universities and Colleges of Art, Design and Media in association with L'Ecole de Design Nantes Atlantique.
 2005:
The Golden Fur Pin Award show: Work presentation.
Danish museum of arts and crafts: Exhibiting graduation collection on October on the 14th.
Danish Design Centre: Graduations show on September the 1st.
Designers Nest show at Copenhagen Fashion Week: Participating at CPH Vision on Designers Nest from the 11th to 14th of august (fashion show and exhibition).
2003: Show on Fashion & Design festival in Copenhagen.
1998: Show in Madrid – Conflicto is invited to participate in "Anti Fashion Week" on The Joy Theatre.
1997: Conflico show on The National Theatre of Caracas, Venezuela.
1994: Show in London presenting Conflicto collection at The Ministry of Sound.